Hmlet Higashi Gotanda is newly opened
Hmlet Japan, a rental housing operator of Mitsubishi Estate Group, launches "Hmlet Higashi Gotanda"
Hmlet Japan Co., Ltd. (Headquarters: Chiyoda-ku, Tokyo, CEO: Kenichi Sasaki), a company that provides "unique experiences and community building in addition to rental housing," is pleased to announce that "Hmlet Higashi Gotanda" (Shinagawa-ku, Tokyo; 24 units) opened on Thursday, September 1, 2022.
Features: Hmlet Higashi Gotanda
Located about a 6-minute walk from Gotanda Station on the JR Yamanote Line and about a 4-minute walk from Gotanda Station on the Toei Asakusa Line. Major stations such as Shinagawa, Shinjuku, and Shibuya are easily accessible without the need for transfers.
All units at Hmlet Higashi Gotanda come fully furnished with three designs available. The regular rooms have a chic modern wood construction and are complimented by the natural warm finish of the furnishings. The property also features rooms suitable for remote work equipped with a comfortable desk and chair. The spacious 1LDK (one-bedroom type) units feature a two-seater sofa in addition to a desk for the perfect combination of relaxation and concentration. With Hmlet, you can choose the plan that best suits your lifestyle.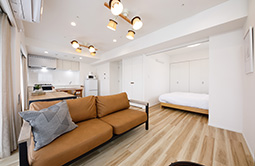 Hmlet Higashi Gotanda – 1LDK type (one-bedroom apt.)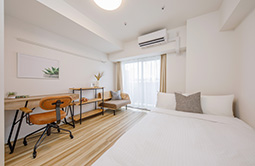 Hmlet Higashi Gotanda – 1K type (studio), regular room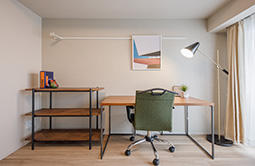 Hmlet Higashi Gotanda – 1K type (studio), remote work room
Property Overview
Location: 1-8-2 Higashi-Gotanda, Shinagawa-ku, Tokyo / Nearest Station: Gotanda Station (JR Yamanote LIne) in 6min
Structure/Scale: Reinforced concrete / 14-story
Total number of units: 24
Floor plan: 1K type (studio) and 1LDK type (one-bedroom apartment)
Room size: 24sqm – 41sqm
Managed by: Hmlet Japan Co., Ltd.
URL: Hmlet Higash Gotanda https://hmletjapan.com/en/property/hmlet-higashi-gotanda/
Hmlet Japan's Future Development
Although the current number of residents is approximately 330 (with a total of over 1,000 users), the business is expanding with the target of reaching 10,000 by 2030. Hmlet Japan currently operates 19 properties (Monzen Nakacho, Setagaya Hanegi, Shinjuku-Gyoenmae, Morishita, Shibuya Shoto, Sasazuka, Iwamotocho, Takadanobaba, Sengoku, Sangenjaya, Harajuku, Yamabuki Kagurazaka, Moto-Asakusa, Nakano Shimbashi, Kamata, Koenji, Yoyogi Uehara, Kinshicho, and Higashi Gotanda), and plans to open the 20th property in Tokyo around fall 2022.
Through creating a co-living community environment, Hmlet Japan will continue to, not only, provide new housing, but also new experiences to our customers.
About Hmlet Japan
Hmlet Japan Co., Ltd. is a co-living (rental housing) management company established in 2019 by Mitsubishi Estate Co., Ltd. and Hmlet Pte., Ltd. (Headquarters: Singapore) with the aim of providing new housing and lifestyles. Co-living (rental housing) is becoming popular in major cities around the world such as New York, London, and Singapore, mainly among millennials in their 20s and 30s, as work styles and lifestyle values ​​change.
Hmlet offers 1K (studio) to 2LDK (2-bedroom) units available for a minimum of one month rental in a central Tokyo location near a station. Both furnished and unfurnished options are available inclusive of general utilities, so you can start your new life immediately after moving in. In addition, community managers are available for daily consultations, and events are planned and organized to support interaction among residents. Networking events that can help you start your own business or help you in your future business life, as well as sports, art, cooking and other activities to experience new cultures while having fun are also offered. Hmlet will continue to expand its services and provide opportunities to meet people of various nationalities and occupations.
Company name: Hmlet Japan Co., Ltd. https://hmletjapan.com/en/
Address: 1-1-1 Otemachi, Chiyoda-ku, Tokyo
Establishment: October 2019
Major shareholders: Mitsubishi Estate Co., Ltd. / Hmlet Pte.,Ltd.
Business: Management of co-living facilities
Representative: Kenichi Sasaki, CEO
***