New "Hmlet Higashi Nakano" to be opened
Hmlet Higashi Nakano, the 20th property of Hamlet Japan, a Mitsubishi Estate Group's operator of rental housing, to be newly opened.
Hmlet Japan Co., Ltd. (Headquarters: Chiyoda-ku, Tokyo, CEO: Kenichi Sasaki), a company that provides "unique experiences and community building in addition to rental housing," is pleased to announce the opening of "Hmlet Higashi Nakano" (Nakano-ku, Tokyo; 11 units) on Saturday, October 1, 2022.
Features: Hmlet Higashi Nakano
Located in a quiet residential area, about a 7-minute walk from Higashi-Nakano Station on the JR Chuo and Sobu Lines and about a 5-minute walk from Ochiai Station on the Tozai Subway Line. The property offers easy access to central Tokyo and business areas with a direct connection to Shinjuku Station (5 minutes) from Higashi-Nakano Station by the JR Chuo and Sobu Lines and to Otemachi Station (19 minutes) from Ochiai Station by the Tozai Subway Line.
All units at Hmlet Higashi Nakano are furnished and designed in a Scandinavian style with warm wooden furniture in white-based rooms.
This property is CREAL No. 66 (fully subscribed and closed on September 6, 2022) under management on "CREAL", an online real estate crowdfunding platform operated by CREAL Inc.
Property Overview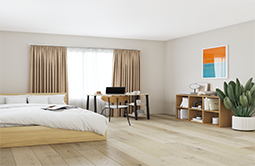 Hmlet Higashi Nakano – 1K type (studio) *image only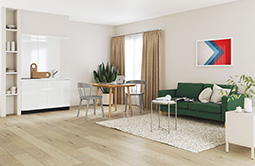 Hmlet Higashi Nakano – 1LDK type (one-bedroom apt.) *image only
Location: 4-27-37 Higashi-Nakano, Nakano-ku, Tokyo
Nearest station: Higashi-Nakano Station (JR Chuo and Sobu Line) in 7min / Ochiai Station (Tozai Subway Line) in 5min
Structure/Scale: Reinforced concrete, 4-story
Total number of units: 11
Floor plan: 1R, 1K type (studio) and 1LDK type (one-bedroom apt.)
Room size: 17sqm – 36sqm
Managed by: Hmlet Japan
URL: Hmlet Higash Nakano  https://hmletjapan.com/en/newbuilding/27329/
Hmlet Japan's Future Development
Although the current number of residents is approximately 330 (with a total of over 1,500 users), the business is expanding with the target of reaching 10,000 by 2030. Hmlet Japan currently operates 20 properties (Monzen Nakacho, Setagaya Hanegi, Shinjuku-gyoenmae, Morishita, Shibuya Shoto, Sasazuka, Iwamotocho, Takadanobaba, Sengoku, Sangenjaya, Harajuku, Yamabuki Kagurazaka, Moto-Asakusa, Nakano Shimbashi, Kamata, Koenji, Yoyogi Uehara, Kinshicho, Higashi Gotanda and Higashi Nakano), and plans to open the new property in Taito-ku around spring 2023.
Through creating a co-living community environment, Hmlet Japan will continue to, not only provide new housing, but also new lifestyle experiences to its customers.
About CREAL
CREAL Inc. introduced "CREAL", an online real estate crowdfunding platform, and "CREAL Pro", an asset management service for institutional investors and ultra high-net-worth individuals.
CREAL is an online real estate investment market launched in November 2018 with the mission of "changing real estate investment and changing society." CREAL Inc. aims to provide the asset management opportunities for everyone by providing investment opportunities in various types of real estate asset classes starting from as little as JPY10,000, including large-scale real estate and ESG real estate *1, which until now have been difficult for ordinary individual investors to reach.
The asset types of the funds offered are diverse, including single-unit and multi-family residences, daycare facilities, schools, hotels, and office and retail properties, providing investors with regular investment opportunities.
CREAL PARTNERS Inc., a group company, is offering "CREAL partners", a real estate investment management service for individuals that aims to build mid- to long-term assets using DX.
*1: Real estate that takes into consideration the environment, society, and corporate governance, contributing to the resolution of pressing issues such as a declining population, falling birthrate, and aging society.
<Company Overview>
Company name: CREAL Inc.
Address: CREAL UENO, 2-13-2 Higashi Ueno-no, Taito-ku, Tokyo
Establishment: May 11, 2011
Business: crowdfunding/asset management/healthcare funding
Representative: Daizo Yokota, President and Representative Director
URL: https://corp.creal.jp/
About Hmlet Japan
Hmlet Japan Co., Ltd. is a co-living (rental housing) management company established in 2019 by Mitsubishi Estate Co., Ltd. and Hmlet Pte., Ltd. (Headquarters: Singapore) with the aim of providing new housing and lifestyles. Co-living (rental housing) is becoming popular in major cities around the world such as New York, London, and Singapore, mainly among millennials in their 20s and 30s, as work styles and lifestyle values ​​change.
Hmlet offers 1K (studio) to 2LDK (2-bedroom) units available for a minimum of one month rental in a central Tokyo location near a station. Both furnished and unfurnished options are available inclusive of general utilities, so you can start your new life immediately after moving in. In addition, community managers are available for daily consultations, and events are planned and organized to support interaction among residents. Networking events that can help you start your own business or help you in your future business life, as well as sports, art, cooking and other activities to experience new cultures while having fun are also offered. Hmlet will continue to expand its services and provide opportunities to meet people of various nationalities and occupations.
<Company Overview>
Company name: Hmlet Japan Co., Ltd. https://hmletjapan.com/en/
Address: 1-1-1 Otemachi, Chiyoda-ku, Tokyo
Establishment: October 2019
Major shareholders: Mitsubishi Estate Co., Ltd. / Hmlet Pte. Ltd.
Business: Management of co-living facilities
Representative: Kenichi Sasaki, CEO
***